Class Space is Limited
Sept 25-29
Virtual Experience 9am - 2:30pm CST
Presented by Alex T. Lau
Cloud based QC/PLUS system provided for hands-on practice
Statistical thinking, SQC theory and practical application
Special emphasis on work process and measurement system improvement
Precision, bias, ILCP/PTP, alternative limits – all are included
Valuable learning for labs of all types and sizes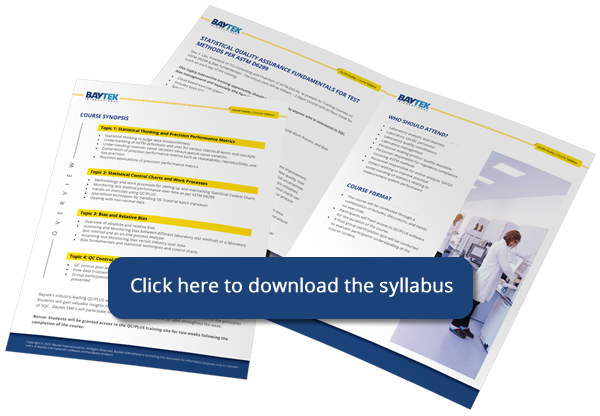 Statistical Quality Assurance Fundamentals for Test Methods per ASTM D6299
Alex T. Lau, President of TCL-Consulting and Chairman of ASTM D02.94, to present his Training Courses on ASTM D6299 & Bias Fundamentals. The virtual class will be 9:00am – 2:30pm Central with an hour break for lunch on each day of the training.
This highly interactive training opportunity should not be missed by anyone who is interested in SQC, bias management and especially EPA Part 1090 compliance.
Cloud based exercise system provided for hands-on practice
Includes both SQC theory and practical application
Special emphasis on Statistical Thinking, Control Chart Fundamentals, D6299 Work Process, and Bias Management
Special Session: Bring your statistical ailments to the "SQC Doctor"
Course Motivation
Since trustworthy measurement data is a fundamental enabler to all aspects of business improvement, having a fundamental understanding of testing precision, bias (absolute and relative), data quality, how to design and execute control chart work processes to ensure data quality, and the implicit uncertainties associated with measurement data can significantly enhance business process improvement initiatives.
Understanding test method and measurement system performance and behavior from control charts can lead to correct decisions as to when to adjust and when not to adjust measurement systems or process control strategies.
Use of control charts to monitor measurement system performance and apply preemptive just-in-time failure-prevention actions can improve laboratory and field operations efficiency, reduce waste, and assure the test data produced are fit-for-use and defensible.
Understanding of test method precision and bias enables release of product with confidence at optimal production cost.
Who should attend?
Laboratory analysts and chemists
Laboratory QA/QC personnel
Laboratory quality coordinators
Laboratory management
Personnel making product quality decisions
Personnel responsible for regulatory compliance involving ASTM methods
Personnel responsible for online analyzer QA/QC
Others wishing to improve practical understanding of statistics relating to measurement system performance
Course Format:
The course will be conducted through a combination of lectures, discussions, and hands-on exercises.
Participants will have access to QC/PLUS software for the duration of the course.
A final group participation quiz will be conducted to evaluate participants' understanding of the course content.
Baytek's industry leading QC/PLUS workflow solution for SQC will be prominently featured during the course.  Students will gain valuable insights into good laboratory practices and practical application of the principles of SQC.  Baytek SME's will participate in the course and be available for Q&A throughout the week. 
Bonus: Students will be granted access to the QC/PLUS training site for two weeks following the completion of the course. 
---
Pricing: QC Training: $2,750   Virtual Online Training ~ 9AM - 2:30PM Central 
To register, click here.
For more information, email This email address is being protected from spambots. You need JavaScript enabled to view it.